10)Coding encourages hands-on learning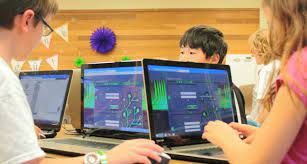 It's a hands-on approach to learning in which pupils adapt and learn by interacting with their surroundings. The premise behind learning by doing is that we learn better when we really "do" something. The kid will grasp the software they are using to play the game if they learn by doing. Later on, students learn more about how items move, how many points they may get, and so on. It is an active practice rather than a passive one. Active engagement helps children learn more deeply and encourages them to make mistakes.
Coding for kids helps them understand the concepts taught in science and math classes better. It gives them the chance to apply all the concepts in real life. Such languages make the learning process easy and reduce the pain points for kids. Once the kid gets comfortable with the language, they can proceed to more complex languages of their choice. This step-by-step transition makes it easier for kids to adapt to the different types of programming languages rather than exposing them to them all at once.
With NEP 2020 in place, coding will be taught in schools. This move comes in the light of the potential advancements in the changing job industry and making the kids future-ready.
Conclusion
There are several coding communities that bring together both beginners and experts to share their progress, projects, and learnings. Such communities help kids learn from different people, share their views and nurture their interest in coding.
There are many such benefits of enrolling children into coding for kids' online classes. It is crucial to understand their interest areas and accordingly pick from a variety of online courses for kids that best suits their needs. Even if they do not pursue coding as their career path in the future, taking up a few coding classes will help them gain the right skills for the future. Visit Codeyoung to know more about it!
Codeyoung is one of the finest coding apps for kids since it offers an interactive environment for them to learn how to code.
Every student is validated by India's most prominent institute, TOSC IIT Kanpur Student Certification.

You get unlimited access to the Learning Platform for the rest of your life. You can access the courses and recordings at any time and from any location.

Access to our coding experience platform at a discounted rate

Peer-to-peer learning is extensively stressed. Collaborate with your classmates, make friends with them, and gain knowledge from them.

High-quality, well-versed mentors are available.

Mentors in the top 1% who are patient and capable of teaching children

The student Portfolio has a lot of information that may be customized.
Codeyoung is one of the best platforms to learn Scratch! Your youngster will learn to code using Scratch with the help of our skilled educators. Scratch is a well-known application that allows you to:
To conduct coding and programming activities, it uses a drag-and-drop interface.
Allows your youngster to work on projects with other kids.
Games, animations, stories, and music are examples of coding tasks.
Aids children in coming up with imaginative solutions to challenges and expressing their thoughts.
Frequently Asked Questions
What is coding used for?
Coding enables us to develop items such as computer software, websites, apps, video games, operating systems, and so on. Because of lines of code, the backdrop on this page is the way it is. For mobile devices, mobile developers create new applications or adapt existing websites. Mobile developers write code that allows websites and apps to be transferred to mobile devices without losing their appearance or functionality. A programmer creates instructions that describe the data and tasks required to create a visual or complete a task.
How to learn to code?
Researching all the various programming languages and studying their basics, is the best way to learn to code. Then go through their videos, to know where your interests lie and your skills relate. Before you begin any task, develop a study strategy for yourself. Numerous online platforms and websites are available for coding for kids, one of the best ones is Codeyoung!
How to learn to code for beginners?
At a young age, learning to code allows kids to gain a better understanding of the world around them. Coding enables students to visualize abstract concepts, allows them to apply arithmetic to real-life circumstances, and could understand the STEM curriculum more easily. As a young kid who is still forming their perception of the world, it is easier to grasp new things. Exposing them to different views from people and teaching them to work collectively will help them become better team players.
What are the advantages of coding?
Coding is already a significant element of this technological progress, and it will become even more so when new robotics and automated technologies emerge. Few of the benefits of learning programming languages can also provide you with numerous options in more creative industries. Even beyond the likes of the advancement of tech and the number of job opportunities, coding helps develop a few crucial skills at a young age. Coding can help to engage kids' learning centers of the brain. It can help kids strengthen their problem-solving abilities and cognitive abilities.
Why is it important to learn to code?
When a child is learning to code, they will frequently discover that there are multiple solutions to a problem. Also, coding makes a kid think 'out of the box. It enhances their creativity and imagination. It promotes critical thinking and focuses on assisting students in developing and implementing problem-solving skills. Because it's "cross-disciplinary," it's a good idea to start teaching it in elementary or even preschool.