Code Blocks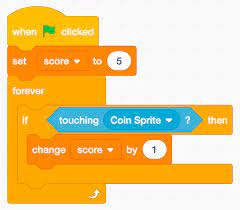 In Scratch, blocks are used to generate code in the form of puzzle pieces. Each data type (hat, stack, reporter, boolean, or cap) has its form and a uniquely shaped slot to be entered into, preventing syntax problems. The term "script" refers to a grouping of interconnected blocks.
Blocks are typically easier to work with than text-based programming because they don't require memorizing like typed commands and don't allow for syntax errors.
Motion, Looks, Sound, Event, Control, Sensing, Operators, Variables, List, and My Blocks are among the few categories of blocks available.
Motion blocks
They are medium-blue in hue and are employed to control the movement of sprites. Sprites are the only ones who can use them. There are 18 motion blocks in total: 15 stack blocks and 3 rep blocks. Motion blocks are used to regulate how a Sprite moves—slide, spin, move, etc. For example, "Move 10 steps" could be used to move the Sprite forward 10 steps.
Look blocks It modifies a Sprite's appearance by changing its color or size, as well as making Sprites speak. "Change the size by ten," for example, or "Say Hello!" for two seconds. Look blocks are one of the ten Scratch block categories. They are purple in hue and are employed to control the appearance of Sprites. There are 20 Look blocks in all, with 17 Stack blocks and 3 Reporter blocks. 14 are reserved for sprites, while 4 are reserved exclusively for the Stage. According to Scratch Statistics, this block category has the most used blocks, with over 2 million usages.

Sound Blocks Play sounds, alter sound effects, or change the volume with sound blocks, which add sound effects to a Sprite.

Sensing blocks One of the ten categories of Scratch blocks is sensing blocks. They are cyan-colored and are utilized to detect various aspects of a project. Among the 18 Sensing blocks now available are three stack blocks, five boolean blocks, and ten reporter blocks.

Event blocks
Sprites are alerted to begin running code using event blocks. They have a light yellow color scheme and are used to detect events that cause scripts to execute. Without the headwear blocks from this category, a project would be unable to start unless scripts were manually run.
At the moment, there are eight Events blocks: six Hat blocks and two Stack blocks. It's the tiniest block type. All event blocks were previously classified as Control Blocks in Scratch 1.4 and before. In the Experimental Viewer and early versions of Scratch 2.0, Events blocks were first referred to as "Triggers" after being granted their category. Scratch Day 2012, on the other hand, renamed the event "Events."

Control Blocks Control blocks are used to make looping animations or pauses between events. It provides you with more control over the code.

My blocks
One of the ten types of Scratch blocks is My Blocks (called More Blocks in Scratch 2.0). It contains the routines for the currently selected sprite. They are pink in color. Except for a "Make a Block" button, it is empty before any blocks are built.
Make a Block opens a dialogue box where the user can create a procedure. The new block appears in the palette and an empty definition appears in the code area once OK is pushed. Scratch will run the blocks below the matching Define block when the method runs.