What are the basic terminologies one should know about Python?
Keywords and Variables
The reserved words having a special meaning which will perform some specialized task is called a keyword. We cannot use a keyword as a variable name, function name, or any other identifier. They are used to define the syntax and structure of the Python language. In Python, we also get case-sensitive features with the keywords and variables. Some examples of keywords: False, True, else, break, None, except, finally, etc
Data types
Every value in Python has a datatype. Since everything is an object in Python programming, data types are classes and variables are instances (object) of these classes. Listed below are some of the most important data types in Python. Int, Float, Complex, List, Tuple, Strings, Set, and Dictionary
Operators
For carrying out arithmetic or logical computations some special symbols are used in Python called Operators.
Arithmetic Operators: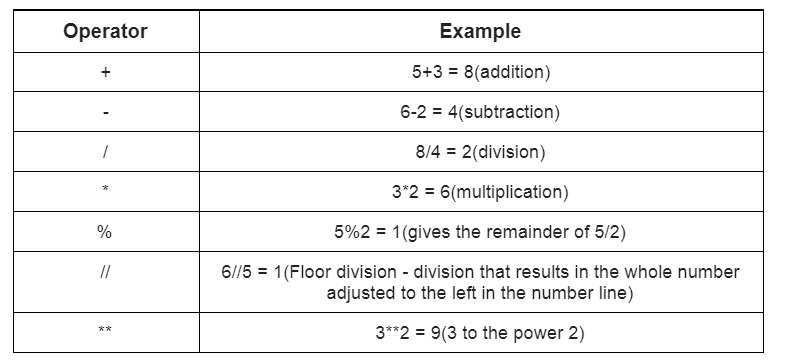 Like the Arithmetic Operators, we have some other operators with some specialized functions. Some of the most important ones are mentioned below.
Comparison Operators, Logical Operators, Bitwise Operators, Assignment Operators, Identity Operators, and Membership Operators.
Functions
A function is a set of related statements which perform a particular task. This helps us to break our program into small modules which helps a coder to handle the codes when the code size is very large.
Loops
Loops are nothing but as the name itself suggests, it is a set of instructions that are repeated until a certain condition is reached. In this structure, there is a question which on being asked an action is executed for generating the answer and keeps on repeating the question till you no longer need to act.
Object-Oriented Programming in Python
Different types of languages are multi-paradigm and Python is one among them. It supports different programming approaches. One of the popular approaches to solve a programming problem is by creating objects. This is known as OOP(Object-Oriented Programming). This is a method of structuring a program by assembling related features and behaviors into individual objects.
Object
A unique instance of a data structure that is defined by its class. An object comprises both data members and methods. A method is a function that belongs to an object. Semantically, objects are like components of systems. For example, list objects have methods called append, insert, remove, sort, and so on.
Class
A class is a code template for creating objects or can also be called a blueprint for the object. In python, the class is created by the keyword 'class' and attributes are the variables that belong to a class. The class creates a user-defined data structure that consists of user-defined data members and member functions which can be accessed by using an instance(object) of that class. Along with the above-mentioned topics, there are many more advanced topics in python like Iterator, Generator, Closure, Decorators, Property, RegEx, etc.